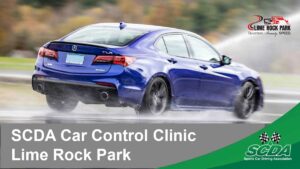 About the Event:
Open to all drivers. No experience necessary
NEWLY repaved surface on the entire Proving Grounds!
Chalk talk to Start the day at 8:30 am (Arrive by 8 am) We will be covering vehicle dynamics, oversteer, understeer, threshold braking, and most importantly, fine-tuning your Car Control! The event will then quickly transition to both the Wet Skid Pad and Lime Rock's full 1/2 mile Autocross track.
In-car instruction and radio coaching are available
Wet Skid Pad gives drivers a chance to find the traction limit and balance the car at the limit
Autocross Track adds the challenge of braking and compound corners, putting the driver's new skills to the test
Muffled event with an 86db sound limit
Car Control Clinic Entry fee is $319
Sign up with confidence- Covid 19 cancellation policy.
Warmed Up? Drive in the afternoon as well on the big track, check out our full track event for Solo drivers.
This event is open to any driver 18 years of age or over (16-17 with parental waiver), NO prior track experience is needed. The event will be professionally staffed by the SCDA Instructor team. They will be available to work with you during the event to ensure some serious in-car training and of course, a ton of fun pushing the limits, playing on the Skid Pad and Auto X tracks.
The event is limited to 24 Participants, providing Maximum Seat Time on both the Skid Pad and Auto X, as well as a very intimate Instructor to Student Ratio. Spots are extremely Limited for this SCDA Car Control Clinic; so if learning the limits of your car in a safe environment is what you are looking for, then this is the event for you!
Arrive and Drive Spec Miatas are available for this event as well.