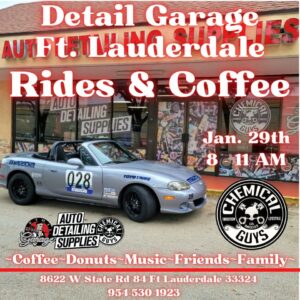 Come and be a part of our Rides & Coffee event here at Detail Garage Ft Lauderdale!
The spot to be on a Beautiful South Florida Sunday morning.
This event takes place THE LAST SUNDAY of every month from 8-11am!!
What can you expect?
– Coffee
– Donuts
– Crazy Rides
– Awesome People
– Davie PD on the property
– Respect the Location
– No revving or burnouts
Event Times: 8am – 11am
Events Location: 8622 W State Road 84, Ft Lauderdale Fl 33324
Enjoy a safe and passionate environment with tons of car, bike, truck, detailing enthusiast all at one location. We will be blasting fun music and having a great time.
This awesome event is open to all makes, models and toys!