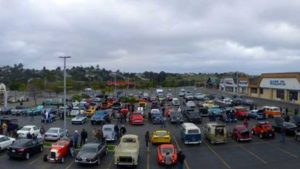 The Pismo Derelicts & Donuts is every Saturday from 8am to 10am at the Golden Donut Shop, 829 Oak Park Blvd.
The Pismo Derelicts are an informal bunch of car guys and gals of all stripes from all over the Central Coast. We gather every Saturday morning at 8 AM near the Golden Donut shop in the OSH/ROSS(829 Oak Park Blvd) shopping center in Pismo Beach, at the intersection of Hwy 101 and Oak Park Blvd. If you have a "Ride" you are proud of, dust it off some Saturday morning soon and share its beauty.
Patterned after the famous "Donut Derelicts of Huntington Beach," this is NOT a club. There are no rules, no restrictions, no agenda, and no one is in charge. With no need of funds, there are no costs whatever to participate, and all car enthusiasts are welcome, regardless of their car type or club affiliations. There are no dues, no prizes, and – blessedly – no fund-raisers. In short, with nothing organizational to disagree about, there is no reason for anyone to be disagreeable.