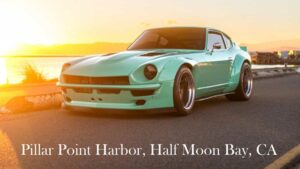 Join us on Saturday, June 18th from 7:30-9:30 am for some beautiful scenery, a wide variety of cars, and restaurants to explore at Pillar Point Harbor in Half Moon Bay.
This is an event you won't want to miss. The main lot holds roughly 250+ cars and the entire harbor can hold about 500+
Open to all makes and models and our events fill up quickly, so we advise arriving early to gain access to prime parking! Event staff will be onsite to assist.
There's a short break in salmon fishing season on the day we host this event, but there may be boat trailers in the lot, so please be mindful and respect the Harbor Patrol, as we've built a strong relationship with them so we can host events here.
We'll see you out there! 
Check out our Instagram for the latest updates: @Beyond_City_Limits_USA