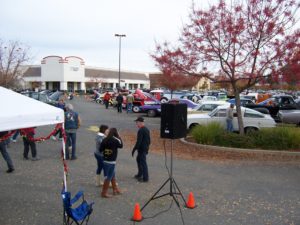 The Cappuccino Cruisers' annual Toy Run event benefits local families in Folsom.
The event is Saturday, December 3rd, 9 am- 2 pm.  The event includes Santa at Santas Hut (he will be delivered by Folsom Fire Dept.), Christmas Music, a Raffle, and Awards.  This is The Cappuccino Cruiser's 29th annual  Toy Run event.   In the past 28 years over $200,000 has been given back to communities where they host their special events. The event is in front of  That Dam Place Restaurant next to Kohl's Department Store- Folsom.
The event is open to all classic car clubs, individuals with classic cars, Classic Race Cars, and special interest vehicles.  Please call ahead to make arrangements.    The entry fee for the event is 1 new unwrapped toy or $20.00.
www.capcruz.com capcruisemaster@aol.com    Ray or Chris 916-988-6376