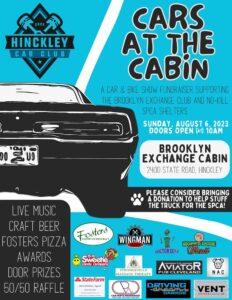 We are thrilled to invite you to a remarkable event that combines the passion for vehicles with the power to make a difference. Get ready to rev up your engines and join us at our 2023 Cars at the Cabin Fundraiser.
Date: Sunday August 6th, 2023
Time: Check-in opens at 10am
Venue: Brooklyn Exchange Cabin – 2400 State Rd Hinckley OH
Pre-registration is required due to having a limited number of spots and sell-out the last 2 years. To pre-register go to https://www.hinckleycarclub.com/ On the main webpage scroll down to featured items & click on Cars at the Cabin 2023.  When next page loads click on blue button on right that says attend $25.  That will add it to your cart.  Next click on the cart symbol in the upper right corner of your screen.  On the next screen change the quantity of tickets if you would like to purchase more than one.  Then click on the blue button that says continue to payment on the right.
Here's what makes our Car Show Fundraiser an event like no other:
Stuff the Truck: Donations to the local SPCA
Fundraising: Half of show proceeds go to the National Exchange Foundation
Live Music
Fresh Food
Vehicle awards (New format for 2023)
Door Prizes
Silent Auction
50/50 Raffle
Thank you for your support in making our Car Show Fundraiser a resounding success. Together, we can drive change and make a meaningful difference in our community.