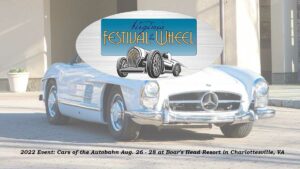 The Virginia Festival of the Wheel is excited to present its 4th annual event on August 26, 27, and 28 at Boar's Head Resort in scenic and historic Charlottesville, Virginia. All proceeds supported the UVA Cancer Center Patient Care Fund.
The theme is "Cars of the Autobahn" for the
2022 event. There will be classes for Porsche, Mercedes-Benz, BMW and Audi in addition to other classic and historically significant vehicles.
We expect the Virginia Festival of the Wheel Concours and our Jefferson Road Tour to offer fun for everyone!
We look forward to seeing you for our 3-day event, Aug. 26-28, 2022.
Friday
CARS & CONVERSATION RECEPTION | $35 per person
A casual social gathering held at the Boar's Head Resort
‍A casual gathering of all participants, including our guest of honor, Hurley Haywood, at the Boars Head Pavilion on Friday evening from 5:00-7:00 p.m. Light fare shall be served. Registration required. We suggest that you make your own reservations for Dinner at the Boars Head Mill Room.
Saturday
CARS & COFFEE CAR SHOW | $30 Donation for one Car
A cruise-in type car show for local owners held at Boar's Head Office Parking Lot.
A car show for all local car owners not entered in the Sunday Concours. The event will be located in the Boars Head Office Park Parking lot from 8:00 to 10:00 a.m.  Advance registration will be required but it is open to the first 125 registrants. Cars must be pre-registered and submit a $30 donation which will include spectator admission to the Concours on Sunday. Spectator admission is FREE for this event and is open to the public.
JEFFERSON TRAIL ROAD TOUR | $40 for Car and Driver
A scenic drive through the beautiful countryside outside of Charlottesville ending at the Pollak Vineyards for a casual lunch and glass of wine.
‍The Jefferson Trail Road Tour is a procession of cars entered in the Concours through the Charlottesville Countryside, with a stop at the beautiful Pollak Vineyards for lunch and a glass of wine. Departs the Boar's Head Resort at noon.
GALA EVENING AT BOAR'S HEAD RESORT | $100 per person
A dinner at Boar's Head Resort for everyone.
The Gala Evening at the Boars Head is a Dance, Dinner and Live Auction, complete with comments from Hurley Haywood and a representative from the UVA Cancer Center. From 5:30 – 8:00 p.m. featuring the fabulous "Jump Alley Band."
Sunday
THE VIRGINIA FESTIVAL OF THE WHEEL CONCOURS | $50 for one car and driver
A display of some of the finest vehicles in the Commonwealth and beyond, on the field in front of  Boar's Head Resort
‍The Virginia Festival of the Wheel Concours featuring 125 of the finest Classic cars, Collector Cars and Motorcycles in the Mid Atlantic Region from 9:30 a.m. to 3:30 p.m.
Registration is required. Participant staging will take place from 7:30 to 9:00 a.m. under the supervision of event management and class hosts. The Concours will be open to the public at 09:30 a.m. Judging will begin at 11:00 a.m., and participants are asked to remain by their car until it has been judged. Winning class Participants will be notified by class hosts and will be recognized at the event's conclusion on stage. Public spectator tickets will be available at soon. Please NO PETS, but service dogs are allowed.