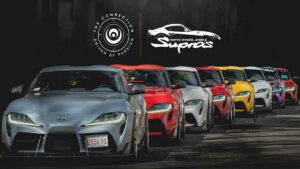 The Connection hosted by @new_england_supras
Calling all Supra / JDM / Toyota Enthusiasts
—
ALL CARS ARE WELCOMED
Open to the Public
—
Saturday, June 18th, 12-4 PM
200 5TH AVE Waltham, MA 02451
Craft Food Halls
All Supra models will have priority parking in designated rows.
We ask that everyone be respectful of the lot, don't be that guy that ruins the event.
 No burnouts
 No two-stepping or revving
 No loud music
 No speeding
If you plan on coming with a large group, please email us so we can make accommodations for your group in the parking lot.
See you all there!