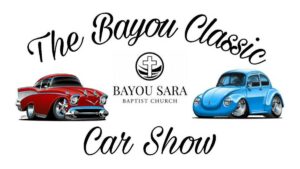 Bayou Sara Baptist Church hosted "The Bayou Classic Car Show" for the first time in conjunction with our fall festival last year. We had such a great response and feedback that we decided to start doing this show every year! This year we will have more award categories to engage more cars and trucks to participate! We want to invite you to come and be a part of The Bayou Classic Car Show on Sunday, October 30th, 2022, located at 12 Bayou Sara Avenue, Saraland, AL. 36572.
All vehicle years, makes, and models are welcome to enter. The entry fee will be $15 for preregistered applicants and $20 for a day of registration. The registration will begin at 3 pm, and judging will start at 5 pm. All vehicles will be judged on a 100-point scale.
You can sign up a few different ways. For preregistration: 1) Detach the bottom portion of the flyer, fill it out, and send the form and your payment to the PO box on the flyer. 2) Scan the QR code on the flyer with a mobile device and fill out the online form. Once the form has been filled out, follow the instructions on Google Docs to proceed with your payment. We strongly encourage you to preregister because it helps us gauge how many cars to prepare for, and you get a cheaper registration fee! If you choose to wait to register the day of, the staff will register you at the tent. Please help us share the word and make this a fantastic experience! Thank you for reading, and we hope to see you and your cars there!