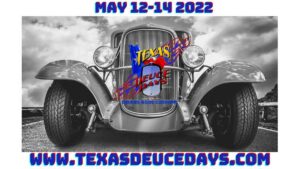 a 3 Day Car Show Enthusiasts Experience. Promoting Traditional Family-Oriented Street Meets, Rallys & Car Shows. Every Event Supports Local Businesses and Raises Awareness & Funding for Texas First Responders & all branches of the U.S. Armed Forces, their families, and Veterans.
Event Schedule:
Thursday, May 12th (4 pm-8 pm):
Registration Check-In
Street Meet (open to public-free, all Car Show participants must register- see website).
Friday, May 13th (8 am-8 pm)
VIPs + Car Show Participants ONLY.
Saturday, May 14th
Car Show (1Day) participants MUST register during check-in.
Registration Check-In (7am-930am)
Car Show (10am-5pm) Open to Public-free
Awards Celebration 330pm-5pm