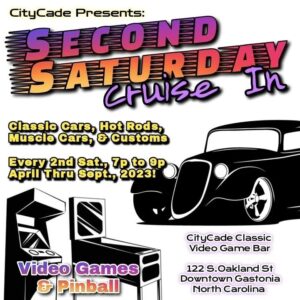 Free Cruise In for Customs, Hot Rods, Muscle Cars, VW's, Mini Trucks, Etc at a classic video game and pinball arcade bar in Downtown Gastonia. Cruise in starts at 7pm, stay as long as you like. Children allowed until 9pm with parent or guardian over age 21.
Located at
CityCade Classic Arcade Bar
122 S. Oakland Street
Gastonia NC 28052
www.citycade.con
Cruise in parking in side parking lot and in front of CityCade.