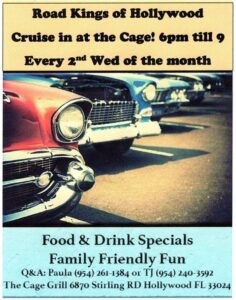 We'd Love to see you and your amazing ride at our monthly Cruise-in at The Cage Bar and Grill located at 6870 Stirling Road, Davie Fl 33024.
This event is held the second Wednesday of every month. A family friendly atmosphere. The Cage serves excellent food and the drinks are always cold. So come on out and show off  your pride and joy.
There are no registration fees for this event.
For details contact TJ at 954 240 3592 or roadkingsofhollywood@gmail.com
Cruise-in dates for 2022 are May 11, June 8, July 13, August 10, September 14, October 12, November 9 and December 14.