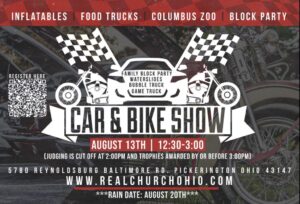 Car and Bike Show
August 13th, 12:30 PM to 3:00 PM. Free to public.
Judging ends at 2 PM, trophies awarded by or before 3:00 PM
Come join us for our  Car and Bike Show. Bring your best car or motorcycle for the public to see. We will have food trucks, water inflatables, a bubble truck, and the Columbus Zoo.
Trophies will be awarded by or before 3:00pm.
Join us  at 5780 Reynoldsburg Baltimore Rd, Pickerington Ohio
Rain Date is August 20th