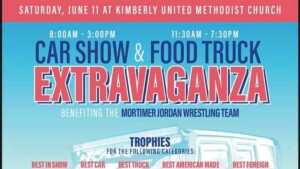 Car show and Food Truck event fundraiser benefiting the Mortimer Jordan Wrestling Team. There will be 5-6 different food trucks, cokes and water for sale, bouncy houses.
There will be trophies given in the following categories:
Best in Show
Best Car
Best Truck
Best American made
Best Foreign
Peoples Choice
Best Paint
Best Interior
Food Vendors Choice
Best Off-road
Best Division (1st & Runner-up)
– Classic Car (up to 1959)
– Muscle Car (1960-1980
– New Wave (1981-1999)
– Modern (2000 and newer)
Registration is $25 (comes with a $10 discount ticket towards food purchase at Porky's or Tuff Love for the first 50 entries) and you must be entered by 10:00 a.m to be eligible for judging.
This page will be updated as we confirm more details.
For further information feel free to email mortimerjordanwrestling@yahoo.com