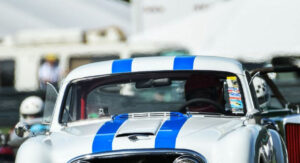 Vintage Race & Sports Car Parade & Historic Festival 39's Opening Event
Lime Rock Park's annual Historic Festival opens with one of the longest automotive parades in the Northeast, the Vintage Race Car & Sports Car Parade. With bystanders viewing from the roadside, more than 100 cars rally 17 miles through local towns.
The Parade
The parade leaves Lime Rock Park at 4 p.m. on Thursday, September 2, 2021, making its way along a 17-mile route, including the towns of Lime Rock, Lakeville, Salisbury, and Falls Village. Here parade-watchers watch in awe. About an hour after the start, the parade of cars arrives in Falls Village for the Street Far: Live music with Wanda Houston, entertainment, and great food.
Each parade participant contributes $25 each that is donated to a local charity. Do you own a 1975 or older sports car or vintage race car and want to be in the Vintage Race & Sports Car Parade? Visit http://limerock.com/historicfestivalparticipantinfo to apply.