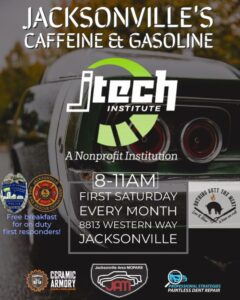 Caffeine and Gasoline car meet. Presented by J.A.M. (Jacksonville Area Mopar) .
We have moved our location from the Orange Park Mall, we are now hosting our event at J-Tech Institute. The new hours are 8a-11a on the First Saturday of every month. The address for the new location is 8813 Western Way Jacksonville Fl 32256
Please be respectful of our host, no burnouts or loud music. Come on out have an awesome time!!!