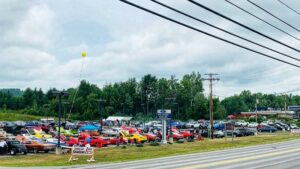 The Home Auto Group wants to see your rides! Farmington Ford and Franklin Chrysler are hosting their 3rd Annual Classic Car Showdown at the Ford dealership on June 25th from 10am – 2pm.
Bring your classics, your remods, your muscle cars, your trucks…SHOW US WHAT YOU GOT!
People's Choice and there is no entry fee!
1st place — $300
2nd place — $200
3rd place — $100
VFW Post 10881 will be hosting their annual Chicken BBQ from 11a – 2p and there will also be an ice cream station that everyone will be able to enjoy!
There is no purchase necessary, but if you are registering a vehicle — do us a favor and reach out so we can make sure we have space for everyone and everything! LAST YEAR WE FILLED THE ENTIRE LOT AND SPACES ARE ALREADY BEING SPOKEN FOR! Registration begins promptly at 8am!
We hope you'll join us for the day!