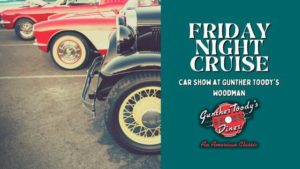 Classic Car show every Friday night at Gunther Toodys Woodman!
Race out to your local Gunther Toodys Woodman every Friday from 5:30 pm to 7:30 pm and come check out our "Friday Night Cruise" car show!
Have a classic car you want to show off and bring down? Bring it and receive 10% off your meal!
NOTE:
On September 22, 2022, our Woodmen location suffered a significant fire that damaged parts of our restaurant. As a result, we will be closed for an undetermined amount of time as we assess the damage and rebuild. Please check the website listed below for Cruise Night updates