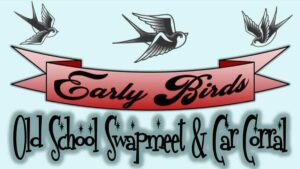 Early Birds OLD SCHOOL
Swap Meet & Car Corral
To all those Crusin the Coast "Early Birds"
Here is an Old School Swap Meet with
Automotive Parts, along with a
Car Corral full of vehicles FOR SALE
during this year's Crusin the Coast. Talented PINSTRPPER on site both days with SWAP Meet and Vendors from across the country. Plus come join us for Party in the Pits SUNDAY pm. Open Dragway & Burnout Pit.
Gates open @9am
October 1st & 2nd 2022
Saturday and Sunday
All spectators,
$10.00 per person!
CASH ONLY, please
Swap Meet – Vendors
$75.00 includes
1-weekend pass,
10 x 30 spot
with primitive/dry camping.
NO GLASS BOTTLES PLEASE
PM us or Call 228-863-4408 ext. 5
for all the details and load in dates & times. Safe Travels