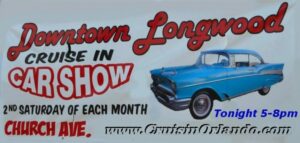 ****The Saturday Night Cruise is back! 5:00PM to 8:00PM****
Hosted by the City of Longwood, the show is FREE and open-to-all.
Located in historic downtown Longwood Fl, 124 West Church Avenue.
Over 100 cars, trucks! 50/50 drawing, food trucks, and music by DJ Don from Cruisin Orlando.
While we can appreciate the effort & money put into everyone's ride/system we ask that you refrain from playing your own music from your vehicle during the show. Failure to follow this request may result in you being asked to leave the show. Thank you in advance for your consideration.