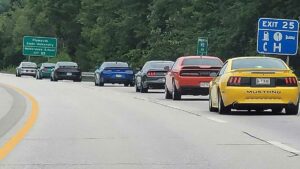 Who's ready for part 4?!
Last year hands down was the most fun year to date. Lots of variety, featuring a visit to Beech Hill Automotive, and lots of fantastic roads with some fantastic sights.
Please note while this event brings in many different kinds of cars it is in no form a race to get anywhere and is meant to be an event to bring in enthusiasts of all ages together for a fun day.
The Plan:
We will meet up and depart from the common man roadside by 830 Am and travel just past Franconia Notch to visit Beech Hill Automotive.
From here we will then travel down some of the wonderful roads NH is known for including the Kangamangus Highway with our journey stopping in Lincoln.
After stopping for lunch at the restaurant of your choosing we will regroup and travel back south down some lesser-known back roads that show off some hidden pleasure roads recently showcased by Jeremy last year.
((some items may be subject to change please prepare to experience at least a full day of driving))
This cruise is for anybody with a US branded car or truck whether it be a muscle car, an American tuner car, truck, bike, or whatever odd types may lie in between. let's make this year just as great if not better than the last one and share the event with all your friends and whoever else may be interested!!