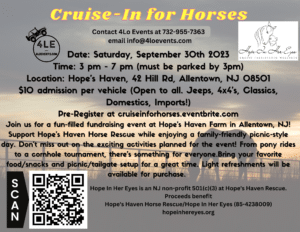 Sept 30th 2023
3 pm-7 pm (Parking starts at 2pm, Vehicles must be parked by 3pm)$10 donation for each vehicle.The event is open to Jeeps, 4×4's, Classics, Domestics, Imports!!! Anyone that would like to join us for a relaxing day! Registration: 
https://cruiseinforhorses.eventbrite.com
Hey everyone! Let's all come together to support a great cause and have some fun while doing it! We're organizing a fundraising event for Hope's Haven Horse Rescue/Hope In Her Eyes. This event will be a family-friendly picnic-style day at the beautiful Hope's Haven Farm in Allentown NJ. So pack up your favorite snacks, refreshments, and picnic/tailgate setup. And enjoy the day! There will also be light refreshments available, so make sure to come and join us for a great time! There will be a few craft vendors on site.
What is Hope's Haven/Hope In Her Eyes? Hope In Her Eyes is an NJ non-profit 501(c)(3) located at Hope's Haven Rescue in Allentown, NJ.Mission: Educating Humans Through InteractionsWe want you to understand and experience a horse's ability to heal through meditation, grooming, or riding one of our four-legged therapists. A goat's playful spirit can also be seen through goat yoga or playing with them.
We are so excited to share with you all the amazing activities we have planned for our upcoming event. From pony rides to a cornhole tournament, there will be something for everyone to enjoy. And if you're looking to unwind and center yourself, don't miss out on the mindfulness meditation with Hope's Haven and the Horses. They'll show you how to be present and grounded through breathing, sound bowls, and meditation. Plus, who doesn't love some delicious smores to top it all off? Can't wait to see you there!
Hope's Haven/Hope In Her Eyes Wish List:
*Gift Cards toTractor Supply
*Rick's Saddle Shop
*Animals & Garden Unlimited
*Gas Gift Cards