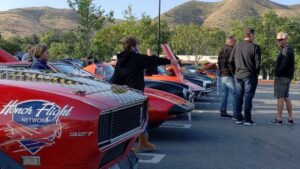 County Line Cars And Coffee events take place on the 2nd Saturday of each month.  And they're held at The Shoppes At Westlake Village.
The events are a combination of two events that took place nearby one another but on different days of the month.  So, The Ranch Car Club remains involved in this event as does the 101 Coffee And Cars event organizers.
So yeah, nice rides are on display.  And hot rods, classics, exotics and collector cars are all welcome.  Moreover, all of those categories were represented when I swung by.
However, I also heard, then spotted, a couple of tuned scooters pulling in.  And they would up parking in the display lineup!  Which, perhaps that was a mistake.  Nevertheless, they were there.