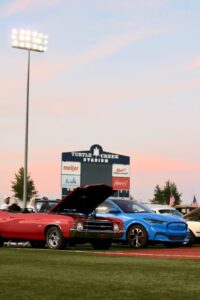 Join us for a YMCA event in Traverse City, Michigan:
Classics Under the Lights!
Free and open to the public to attend.
• Concessions (including beer and full bar)
• Chance Auction
• 50/50 Raffle
• T-shirt sales
• Your Classic Car under the stadium lights at Turtle Creek Stadium!
Outfield Classic Car registrations will be $20.00
1st Base, 2nd Base, 3rd Base will be $100.
The Pitchers Mound and Home Plate will be $150.
This is a fundraiser for the Grand Traverse Bay YMCA to help provide financial assistance to families and individuals in the area to obtain and sustain a healthy lifestyle.
Car registration fees will be non-refundable.