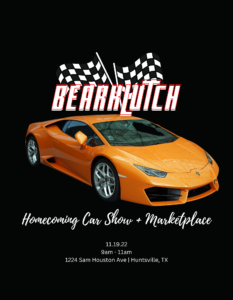 Come and enjoy a display of fast and beautiful cars provided by The Garage Talk and local car enthusiasts. Along with the exhibit of machinery, support the vendors from both local and alumni owned businesses. We can expect multiple artists, delicious bites, unique clothing, and more.
Six month ago, alumni Ashton and Vanessa Winfree, class of 2014 and class of 2013, took part in purchasing the space that will host the special event. They have plans underway to build modern businesses and expand the entertainment options for our Huntsville community. The Winfree couple will announce the details of their development project at the BearKlutch event while celebrating with other alumni who are eager to run successful businesses and maintain a strong professional network.
This event is For Bearkats, By Bearkats.
If you or someone you know is interested in participating in BearKlutch as a vendor to promote your business, contact via email info@montagemediaguild.com.
The planning committee is grateful for any sponsorships from our Bearkat family and friends. Each sponsor will be recognized at the event and on social media. To donate, please email info@montagemediaguild.com for more information.