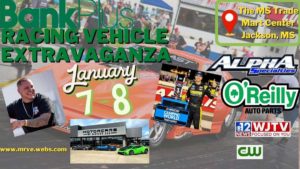 Special 35th Year Anniversary of Mississippi's Premier Racing Event featuring over 175 Radical Customs, Race Cars, and Performance Street Cars competing for over 100 awards, including a giant 7 ft. "BEST OF SHOW" award.
"World of Show and Go" division features the latest "Resto-Mod" and Classic Muscle Cars on display. Meet Special Guest Lil Legend Bobby Ducote from Street Outlaws and Celebrity drivers like Grant Einfinger and other NASCAR stars live at the show Sat. and Sun. for Autographs and photos! See the all-new Builder's Showcase and Mississippi owners and drivers by getting "Free Kids Passes" courtesy of BankPlus.
Also, see:
– The Premier of Mississippi's latest ISCA contenders
– All new Gassers Display
– The Hottest Dirt Track Racers in the South
– And many others…
Photos and videos are welcome with all guests.
Due to New Regulations and vehicle spacing, we will follow all guidelines in place at the time of the show. These may be altered with State policies; as conditions may change. YOU MUST PRE-REGISTER TO BE INCLUDED. The only way to secure a spot is with a Pre-Register
Thanks for your support as we strive to continue to serve you.