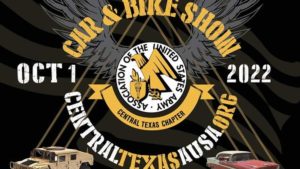 AUSA to Host Car & Bike Show to Benefit Christmas Toys for Military Families and support AUSA
The Association of the United States Army – Central Texas Chapter is entering its 14th Annual Toy Drive which offers toys and gifts for Military Families in need. To raise money for the Toy Drive, AUSA will be hosting its 2nd Annual Indoor Car Show on October 1. There will be raffles, prizes, activities for the kids, food trucks, and more. Admission for spectators is free.
Participants wishing to enter the car show can pre-register by September 26 with a $25 registration fee plus a new toy. Registration on October 1 will be $30 plus a new toy. Registration information can be found at
www.centraltexasausa.org.
Sponsorship opportunities are available. Sponsorships for these efforts will only cost $250 and will allow you to market your organization with a banner or a table on the day of the event (1 Oct 2022).
The Car Show will be at the Killeen Special Event Center on Saturday, 1 Oct 2022, 10:00 am-3:00 pm.
The funds generated by this car show will directly support our efforts in helping Soldiers and their families this holiday season.