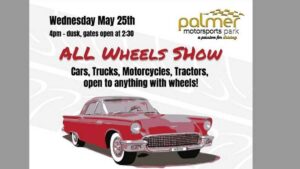 All Wheels Show to benefit the Palmer Food Share and Jubilee Cupboard Food Pantry of Ware! Cars, Trucks, Motorcycles, Tractors, anything with wheels! PRIZES!
Co-Sponsored by Sarat Ford and DUNKIN'
$5 per person donation or a non-perishable food item.
Gates open at 2:30, show starts at 4pm.
Bruce Marshal of The Valley's Classic Hits will be broadcasting live.
Lizak bus will be providing track tours for a small donation.
We hope to see you here!
Thank you!