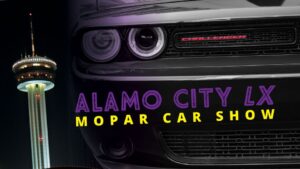 CALLING ALL CAR LOVERS!
Join us at the Tower for a fun family-friendly evening with Alamo City LX, the greater San Antonio Area's Oldest & Largest Modern Mopar Enthusiasts Club!
Every month bring the family to enjoy the sights of Chrysler 300, Dodge Chargers, Challengers & Magnums!
Admission: Free
Location: At the base of the Tower
| Car Show Schedule
January 7
February 4
March 4
April 1
May 6
June 3
July 1
August 5
September 2
October 7
December 2
*Parking rates change throughout the week. To learn more please visit: https://www.toweroftheamericas.com/event/alamo-city-mopar-car-show/
*Event is subject to change or cancel without prior notice. Please call 210.223.3101 for more information.
**This is not an open car show.