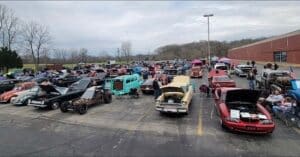 The Clarksville Gearheads will be hosting our 2023 Fall Swap Meet and Car Show! Join us on September 2nd from 10am to 3pm.
We ask swap meet vendors to arrive between 8am-10am so you'll have time to get ready for spectators. Please don't arrive before 8:00am so we have time to set up on our end.
If you're wanting to participate in the car show, please arrive between 10am-noon. We will judge from noon till we are finished followed by the trophy presentation no later than 2pm. We will judge up till the last car is finished if you're running a little behind.
We will be offering 20 trophies this Fall.
Top Ten Overall
Best Truck
Best Modern
Best Classic
Best Overall
Best Lowrider
Furthest Traveled
Club Participation
Best Import
Most Unique
Best Paint
Buy, sell, and trade those parts you've been holding onto! New/old parts and accessories are welcomed. You can trailer in or drive a vehicle in if you'd like to try and sell it.
For one spot it will be $15, each additional spot is $10. Each spot is 10′ by 10′. We are not extremely strict on spot spaces but we ask you to be honest and to stick to those dimensions as close as you can.
If you'd like to be a food vendor or any other vendor, please message us anytime. If you're a business and would like to be apart of this event, please send us a message.
Spectator fees will be $5 a person, kids under ten are free. A portion of this money will be given back to local nonprofits. After each swap meet and show, we are able to donate back to local nonprofits in our community.
You can preregister and pay for the event anytime by messaging us. We have Cashapp and PayPal.
Our rain date will be September 3rd at the same location and time.
Share this with everyone you know! We hope to see you there!