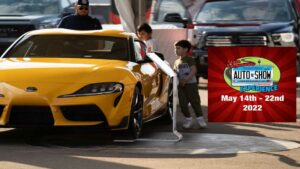 The Twin Cities Auto Show is your chance to compare HUNDREDS of vehicles from both domestic and imported brands without driving all over town!
See new vehicles in every category!
From compacts and family sedans to the latest in SUVs and luxury cars, the Twin Cities Auto Show is the perfect opportunity to check out the newest vehicles on the market. You'll see trucks that offer better mileage, greater utility and convenience, and more luxury features than ever. You will learn about advancements in technology such as in-dash navigation, audio enhancements, communication technology, and more! And of instead of just dreaming about it, the Twin Cities Auto Show is where you can go behind the wheel of one of those sleek, shiny new sports cars.
Get behind the wheel of your next vehicle!
The Twin Cities Auto Show offers lots of great opportunities to not just look at the new vehicles on the market, but to truly EXPERIENCE them. Take a car for a drive and find out how it feels when you're driving. Ride on one of our courses that showcase the capabilities of the vehicles. Whether you're behind the wheel or testing how a vehicle descends down an 18' mountain, this is your opportunity to explore how a new vehicle would fit into your life.
Explore different loves and functions of automotive!
The 2022 Twin Cities Auto Show is going to be bigger, bolder, and better than ever. This year, there will be 7 different neighborhoods for you to explore, each featuring curated vehicles and activities surrounding an automotive theme. Explore vehicles that have jobs beyond driving on the road and learn what it's like to work with vehicles every day in the Heavy Duty Neighborhood. Meet some of the people and vehicles that have fought for the USA throughout the years in the Military Neighborhood. Discover how an electric vehicle would fit into your life in the Electric Vehicle Neighborhood. Make the most of all four seasons and all they have to offer with vehicles from the Outdoor Adventure Neighborhood. See a collection of unique vehicles that you love or have never seen anywhere else in the Lifestyles Neighborhood. Feel like a kid again with the rides and activities in the Fun Neighborhood. See how much fun you could have on just two wheels in the Motorcycle Neighborhood. With all these automotive attractions, there is something for everyone at the Twin Cities Auto Show!
Join the Road Trip!
In 2022, the Twin Cities Auto Show is back at the Minnesota State Fairgrounds! Join us, May 14-22, 2022. This road trip comes with some added bonuses too - State Fair food will be available on-site and parking is FREE! 2022 is going to be the biggest, boldest and best Twin Cities Auto Show yet, and we want you to come along for the ride.