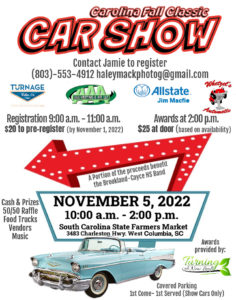 The 2022 Carolina Fall Classic Car Show @ The South Carolina State Farmers Market (3483 Charleston Highway West Columbia, SC) November 5, 2022 from 10am until 2pm
Registration begins at 9am and will end at 11am. Judging will begin at 11:30 and Awards Ceremony will begin at 2pm.
Thank you to our sponsors for this years event Turnage Motor Co., Allstate Insurance Jim Macfie Agency, AAA Heating and Air and Whetzels Automotive.
Custom Wooden Engraved Plaques will be provided by Turning a New Leaf
Award categories are as follows:
Top 20 (will each get a plaque)
Best Car Club (awarded to the club with the most participation)
Peoples Choice
Best of Show