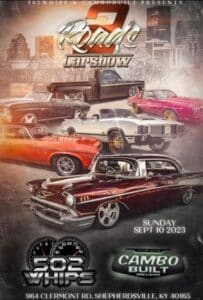 Cambo Built and 502 Whips are coming together to bring you a brand new show!! The 2 Roads Car and truck show!
We are wanting to bring all different style of cars together under one big show!! Hot rods, race cars , big wheel cars, imports , trucks you name it!! Many different classes with awards in each class! Music , food and fun for all ages!
We will be giving away a brand new 10k lb Lift to one lucky show entry thanks to Care Tech!