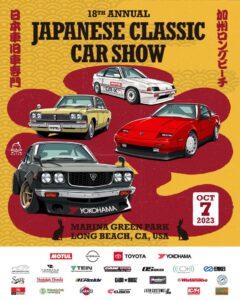 Japanese Classic Car Show Returns to Long Beach, California for its 18th Annual Exhibition!
We are excited to announce the return of the Japanese Classic Car Show, set to take place on Saturday, October 7th, at Marina Green Park in Long Beach, California. This year marks the 18th annual exhibition, promising a fun experience for car enthusiasts and Japanese automotive culture lovers alike. After an unusually long and cold winter and spring on the west coast, this will definitely be the best place for kyusha fans from all over the country to gather!
The Japanese Classic Car Show has gained international recognition and a dedicated following over the years. With a rich heritage spanning decades, these classic cars serve as a testament to the innovative spirit of Japanese engineering.
JCCS is proud to collaborate with sponsors from both overseas and the United States. Our sponsors share our passion for preserving automotive history and supporting the community of enthusiasts. We will also have some surprise "Omiyage" items from JCCS!
Sharing the lawn, we are happy to include the 12th annual Japanese Classic Motorcycle Show (JCMS),where we proudly showcase Japanese motorcycle brands from the 1950s to the 1990s. JCMS is made possible by our generous sponsor Motul USA! 
Registration is now open for a limited space. The 2023 JCCS poster is illustrated by Ozizo and features the TOYOTA Crown, Nissan 300ZX (in celebration of it's 30th anniversary), Mazda RX3, and Honda Civic.
Please stay tuned for 2023 visitor information and beyond. Looking forward to see all the kyusha fans soon!